Course details
[120 minutes with all you can drink!] Women's Association plan (all 9 dishes) 4200 yen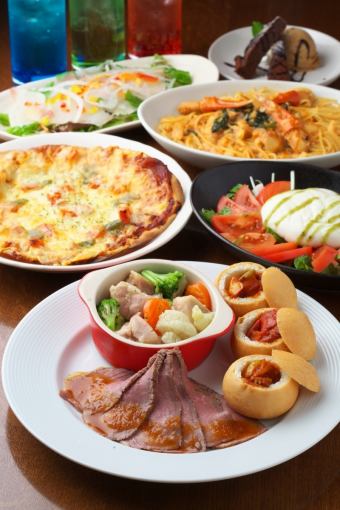 By using a coupon4200 yen
★ Please make a reservation 2 days in advance!
All-you-can-drink available

All-you-can-drink menu of Dolce ~ ド ル ぇ ぇ ~ [All you can drink 120 minutes !! (LO 10 minutes ago)]
Reservation deadline

Two days before 21 o'clock on the desired shopping day
Available days for reservation

Monday - Sunday - Public holidays - Holidays
Beef meatball "Porpettini in tomato simmer" is the shopkeeper's favorite !!
Course menu
★ Three appetizers served
★ Today's carpaccio salad tailoring
★ Polpettini boiled with tomatoes
★ Ahijo Peperoncino style of chicken and mushrooms
★ Selectable main (with group, you can choose two favorite ones from the following!)
Pasta / pizza / risotto / omelet rice
★ with today's Dolce ice cream
☆ You can change the main menu to meat dishes for +300 yen!
All-you-can-drink menu
・ Soft drink HOT
・ Hot coffee tea (straight, lemon, milk)
・ Soft drink ICE
・ Ice coffee, ice cafe au lait, ice tea (straight, lemon, milk), oolong tea, 100% orange juice, 100% apple juice, 100% pink grapefruit juice, 100% pine juice
・ Soft drink soda series
・ Blueberry soda, raspberry soda, cranberry soda, peach soda, green apple soda, pine soda, hawaiian blue soda
·Non-alcoholic cocktails
・ Cassis orange, cassis grapefruit, oak spine, cinderella, bussy cat, cassis milk, strawberry milk, douce de francoise, conclavé, bicolor
・ Alcohol draft beer
・ Draft beer, pitcher
・ Alcohol sour
・ Lemon, lime, pine, big peak, green apple, peach, black tea
・ Alcohol glass wine
·Red and white
・ Alcohol plum wine
・ Lock, water split, hot water split
・ Alcohol shochu
・ Lock, water split, hot water split
・ Alcohol cocktail
・ Cassis orange, cassis grapefruit, cassis oolong, cassis soda, cassis milk, litchi orange, litchi grapefruit, litchi soda, fuzzy nable, Shanghai peach,
・ Alcohol cocktail
・ Salt tea dog, screwdriver, orange blossom, gin lime, gin laz shot, peach fizz, kamikaze, black lusian, white lusian, kaloa milk
Coupons that can be used with this course
2019/06/10 update