Course details
【120 minutes with all you can drink !!】 Girls' Unit Plan (9 items in all) 4200 yen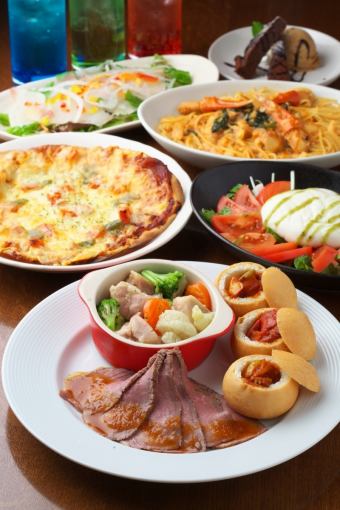 By using a coupon4200 yen
★ Please reserve by 2 days in advance!
All-you-can-drink available

All-you-can-drink menu of Dolce ~ Darucha ~ All you can drink for 120 minutes! (LO 10 minutes ago)】
Reservation deadline

Two days before 21 o'clock on the desired shopping day
Available days for reservation

Monday - Sunday - Public holidays - Holidays
Meat ball of beef "Porpettini boiled in tomato" is the chef's owner!
Course menu
★ Three appetizers served
★ Today's carpaccio salad tailoring
★ Polpettini simmered in tomato
★ A chicken and mushroom ahijo peperoncino
★ Main choice (With group, choose 2 favorite things from the following!)
Pasta / Pizza / Risotto / Omuraise
★ Today's Dolce + Ice Cream ice
☆ You can change the main menu you can choose to meat dishes at +300 yen!
All-you-can-drink menu
· Soft drink HOT
· Hot coffee tea (straight, lemon, milk)
· Soft drink ICE
· Ice coffee, ice cafe au lait, ice tea (straight, lemon, milk), oolong tea, 100% orange juice, 100% apple juice, 100% pink grapefruit juice, 100% pine juice
· Soft drink soda type
· Blueberry soda, raspberry soda, cranberry soda, peach soda, green apple soda, pine soda, Hawaiian blue soda
·Non-alcoholic cocktails
· Cassis Orange, Cassis Grapefruit, Cassis Pine, Cinderella, Bussy Cat, Cassis Milk, Strawberry Milk, Dough Sea De Franampoise, Concrete, Bicolor
· Alcohol draft beer
· Draft beer, pitcher
· Alcohol sour
· Lemon, lime, pine, gigantic, green apple, peach, tea
· Alcohol Glass of Wine
·Red and white
· Alcoholic plum wine
· Rock, water split, hot water split
· Alcohol shochu
· Rock, water split, hot water split
· Alcohol cocktail
· Cassis orange, cassis grapefruit, cassis oolong, cassis soda, cassis milk, lychee orange, litchi grapefruit, lychee soda, fuzzy room, Shanghai peach,
· Alcohol cocktail
· Salty Dog, Screwdriver, Orange Blossom, Jin Lime, Jin Laz Shot, Peach Fizz, Kamikaze, Black Lucian, White Lucian, Kalua Milk
2019/01/15 update